ASPEUS HEAD OFFICE AT MINTO ROAD, PRAYAGRAJ ASPEUS COLLEGE, CHHATNAG, JHUNSI, PRAYAGRAJ
The graph of the sick and the ailing is showing an ever increasing trend all over the world, specially in under developed and poor countries. India is no exception with millions of its poor and who just cannot afford the high costs of modern day treatment and medicines. No government can have adequate resources to meet all the heath requirements of the poorer sections of society. People in even the developed countries find it difficult to meet high medical costs and equally high medical insurance premiums.
In this grim scenario, an entirely different and innovative approach is needed to alleviate the sufferings of the sick and ailing millions across the globe. There is no dearth of people in human society with purity of heart, noble intentions and a desire to serve the needy. All that is required is for few enterprising and service minded people to take the lead and bring together under one umbrella all such good and right thinking men and women with the common intention of serving humanity.
Acupressure Research, Training and Treatment Sansthan was thus established at Allahabad, India on 26 Mar 1995 for just this purpose. It is an organization of selfless volunteers dedicated to the cause of free social service to the sick and the ailing. The bulk of the volunteers come from the cadre of senior citizens, middle age housewives and unmarried girls.
Senior citizens who are no more active in their vocations find time sitting heavily on them and many experience a feeling of being unwanted in society. Middle age housewives and unmarried girls also have plenty of time to spare. The Sansthan found that the time and latent energy of these groups as also of other volunteers could be channelised and be put to good use in the service of the suffering masses.
As its name suggests, the Sansthan was established with a view to carrying out research, training and treatment through practically cost free acupressure therapy, a therapy with tremendous effectiveness but without any side effects associated with modern medicine. The therapy has great mass potential on account of its simplicity of application, practically no cost basis and ease of learning.
The Sansthan had a humble beginning and started off on a modest scale with a group of seven volunteer men treating 12 patients free of cost in a borrowed building. The sapling planted in the year 1995 has today become a banyan tree and the small Allahabad group of seven has turned into a large country wide cohesive group of countless thousands. The banyan is still spreading its branches and there are no full stops.
Over a period of time, the Sansthan has established more than 280 affiliate treatement centers across the length and breadth of India for providing free acupressure treatment to one and all. Thousands of fully/partially trained acupressure therapists are engaged in volunteer service all over the country for this purpose. The acupressure therapists trained by the Sansthan are somewhat akin to bare foot doctors of China with the difference that the Sansthan trained therapists are mostly volunteers with no monetary motives.
Today, the Sansthan has its own building which houses its headquarters, out patient hospital, research center, training academy, library and its publications wing. An acupressure training college, the first of its kind in India, is under way. See History of Sansthan for full background details. The Sansthan is committed to turn the present tide into a mass movement and take it forward to every nook and corner of not only India but to rest of the world in due course. The Sansthan needs active support from all segments of the society the world over in its endeavor to bring succor to the sick.
The Sansthan has made it a policy not to accept donations in cash or kind from any quarter. It also does not charge any treatment costs to the patients. Yet, it needs funds to carry out its multifarious activities. Over a period of time, the Sansthan has made itself a financially viable organization, mainly through sale of professional books published by itself and partly through training fees levied on trainees which though are bare minimal.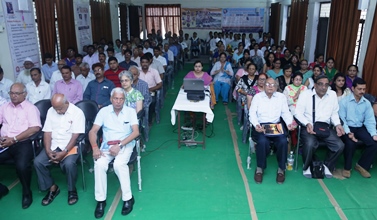 The ultimate aim of the Sansthan is to train at least one member of each family in the basics of acupressure therapy so that the person can look after the health needs of him self/her self, family members, neighbours and friends. The Sansthan organizes awareness programmes and basic training for this purpose. In addition, the Sansthan conducts a number of higher level courses to train acupressure professionals.
The Sansthan has established a training wing and a training academy with a view to meeting its objective. The training wing conducts short-term basic acupressure courses at Allahabad and outstations at periodic intervals. The training academy located at Allahabad conducts long-term advance acupressure courses. Minimal fees are charged to the students for these courses.

Following types of training programmes are generally conducted by the Sansthan.
• Awareness training programmes.
• Basic training.
• Capsule training.
• Residential training.
• Super advance training.
• Correspondence/ Campus courses.
For further details of above training, see Synopsis: Sansthan Training.
Sansthan has established an acupressure training college at Allahabad for running a full fledged residential course in acupressure.